Bulkley Valley Christian High School (BVCHS)
Building occupants were troubled by various and re-occuring symptoms associated with acute discomfort (headaches, throat, eye and skin irritation, dizziness, difficulty concentrating and fatigue). Most complainants reported relief soon after leaving the building, but the exact cause of their symptoms were not known.
What We Did
Drastically improved indoor air quality to WCB standards.
Generated a cumulative energy savings estimate of $120,000 between 1999 and 2006.
How We Did It
1. Testing
Simpson Controls conducted indoor air quality testing at both the high school and elementary school campuses and concluded that all buildings suffered from poor air quality and inadequate ventilation.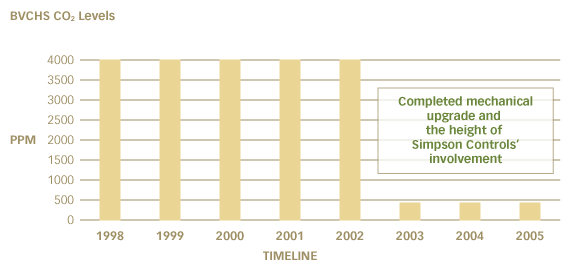 2. Planning, Design and Project Management
We were instrumental in the planning and implementation of BVCHS' mechanical upgrades, working directly with engineers to design improved mechanical systems. We then acted as construction project management to ensure quality and efficiency.
3. Monitoring, Remote Management and Strategy
After the mechanical upgrade, Simpson Controls acted as the primary contact for all building related issues, relieving BVCHS staff from being saddled with HVAC responsibilities.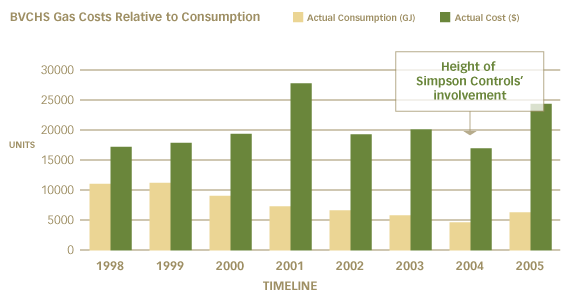 Using our Remote Management software, we were able to monitor, assess and modify the buildings' operation quickly and in real-time, so that most calls did not require a site visit.
We then designed and executed a proactive mechanical maintenance plan which, when combined with ongoing monitoring and tracking, produced the intended results of this project.

Learn more about Building Automation Systems and our Remote Building Energy Management technology...
"Simpson Controls has become a critical extension of our maintenance team. We have arrived at a great partnership between outsourcing our controls system and internal maintenance of it. Working with their team, we have had steady decreases in fuel and electrical consumption since 1998. We have some of the most high tech buildings on Vancouver island, with an internal network allowing any technician to modify controls conditions in any building from anywhere on campus. We have just recently piloted a project with Simpson Controls to utilize their engineering division which has allowed us to simplify our new building projects by decreasing the number of sub consultants."
Tom Shadlock
Brentwood College